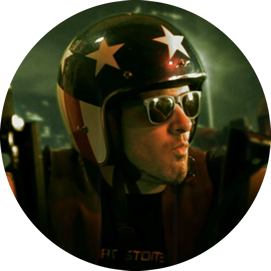 Custom Cez
"It looks like in Europe we are sons of a lesser God compared to the United States! We deserve awesome stuff to, so I got to work to bring powder coating to the European common man"
You might know me from my web-series "Roma Custom Bike" on youtube. The goal of the show is to experimenter and bring the knowledge to the people about new and interesting ways of fabricating bike parts and DIY. One day I stumbled upon the powder coating process, I was amazed.
Since the first episode about powder coating aired I have been getting hundreds of emails from Italian and European fans that wanted to know where they could find both the powder and the equipment. Regretfully I've had to tell them for more than a year that it was not available in Italy and Europe if not at the industrial level, while in the USA it is also marketed for home shop use and in a variety of colors much greater than the best European supplier.
At one point I decided that is was time for me to act and bring this great product at affordable prices here in Italy and create the first European powder coating on line store for small quantities and semi-professional application guns.
We are no longer "
sons of a lesser God
"!

Custom Cez Artist - Designer - CEO of verniceapolvere.it